Enquire now
Call us or write us on WhatsApp
Cold planer FS series
Highest productivity
Self-levelling asphalt planer for skid-steer loaders, backhoe loaders and wheel loaders.
Self-levelling asphalt planer designed for application on skid-steer loaders, backhoe loaders and wheel loaders, capable of dismantling asphalt crusts, creating pre-defined sections, removing damaged surface layers or simplifying excavation operations.
Operating machines
Multiskid RC
Skid steer loader
Backhoe loader
Wheel loader
Advantages
Constant milling depth
Perfect finishing with side-by-side passes
Stable and vibration-free
Product insights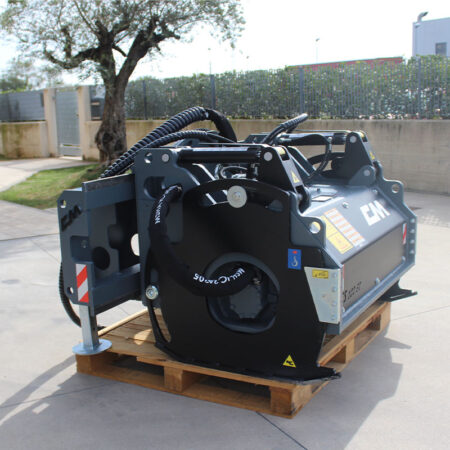 Self-levelling system
Thanks to the self-levelling system on the working surface, a constant milling depth is guaranteed under all conditions. The side slides of the cold planer automatically align themselves to the
milling surface on which they rest, providing maximum stability.
Hydraulic side shift
Used in central or lateral position, to the right side for milling flush to the wall. (walls, sidewalks).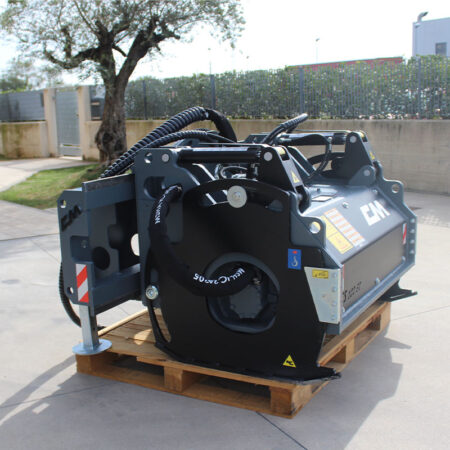 Independent depth adjustment.
The slides move independently of each other and precisely follow the surface to the right or left. The independent depth adjustment on RH and LH sides combined with the self-levelling system
achieves perfectly flat surfaces with sideby-side passes.
Cut and depth indicators
For constant and precise processing control.
Options
Milling drum
Milling drum with different widths and sizes.
Tools for concrete
Hydraulic depth adjustment
Independent on both sides.
Watering kit with tank and 12/24 Volt pump
Supplied with 70 l tank and 12 or 24 V pump depending on the operating machine.
Hydraulic drum inclination
Customised attachment
Depending on the operating machine.
Product images
Highlights
Plug&Play coupling
With the most important skid steer loaders on the market
Teeth for concrete or asphalt
Depending on the surface area to be treated
Watering kit
Standard watering kit provision
Bracket for skid steer loader
always as standard
Video
Technical data
Model
Operating machines
Milling Width (mm)
Oil flow (l/min)
Weight (kg)
FS 25.15
250
30/60
400
FS 35.15
350
40/60
485
FS 40.15
400
40/80
570
FS 45.20
450
70/140
760
FS 50.20
500
80/140
800
FS 60.23
600
100/160
890
FS 75.23
750
100/180
1000
FS 100.20
1000
100/200
1120