Enquire now
Call us or write us on WhatsApp
Crusher bucket CBF series
Compact, versatile, powerful
Bucket crusher for excavators from 7 to 45 tons
Bucket crusher designed for crushing material directly on site. It fits various operating machines such as excavators, backhoe loaders, wheel loaders and telescopic handlers. Compact and versatile, they are suitable for all types of construction sites, in quarries, landfills, and urban and non-urban construction sites of small, medium and large dimensions.
Operating machines
Excavator
Telescopic handler
Wheel loader
Advantages
It eliminates inert disposal costs
It eliminates transport costs
Immediate re-use of crushed material on site
Product insights
Customised attachment
A customised attachment according to the operating machine.
Output adjustment of grain size
Jaw adjustment from 15 to 130 mm.
Options
Excavation teeth
They facilitate drilling on hard ground.
Dust suppression kit
Suitable for abating dust during crushing on site.
Iron separator + control panel kit
The iron separator is indispensable for separating iron from crushed material.
It comes complete with a holder and installation kit.
Product images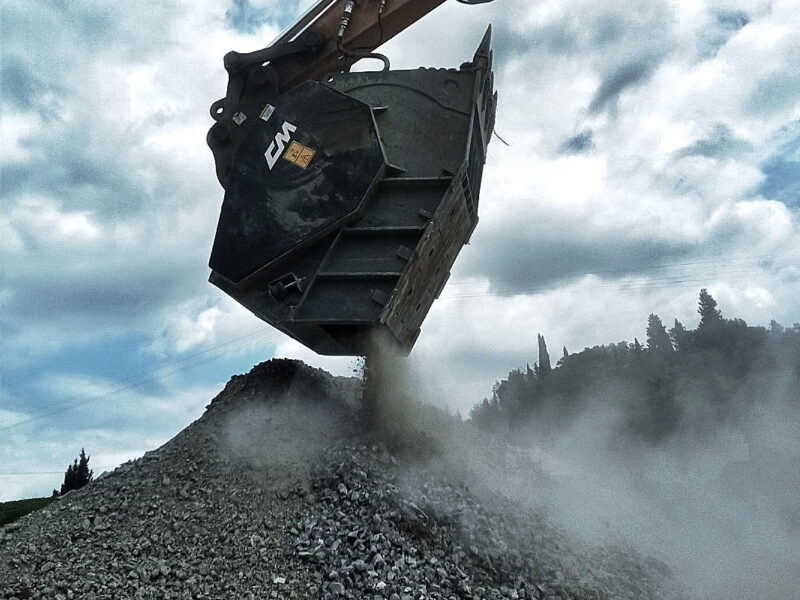 Highlights
Crushing plates
Cast in Manganese 18%
Centralized greasing
Quick and easy maintenance
CM single internal valve
Control and regulation of hydraulic flow and pressure at the motor inlet.
Structure made of anti-wear material
Suitable for working in harsh environments
Video
Technical data
Model
Operating machines
Mouth size (mm)
Oil flow (l/min)
Weight (kg)
CBF 60
610x500
>120 <180
1800
CBF 70
710x550
>150 <200
2400
CBF 90
910x550
>160 <220
3500
CBF 120
1210x550
>180 <250
5000