Enquire now
Call us or write us on WhatsApp
Kommunal sweeping bucket CSK Series
The municipalities' sweeper
The sweeper is suitable for municipal works, construction sites and landfill areas.
Our CSK sweepers were born for municipal activities. Manoeuvrability, easy handling and excellent all-around visibility are the most important prerequisites for efficient and comfortable work.
Municipalities, construction sites and service providers are required to clean streets, squares and areas all year round. From cleaning light dirt to removing coarse dirt. The roller brushes can be easily replaced so that the sweepers can also be used for winter service or to remove weeds.
It is built with working widths up to 4 m.
Operating machines
Multiskid RC
Skid steer loader
Backhoe loader
Telescopic handler
Wheel loader
Tractor
Advantages
Suitable for municipal vehicles
Simple manoeuvrability
Multi-purpose sweeper: from light dust cleaning to snowploughing
Quick and easy maintenance
Product insights
Hydraulic bucket opening
As standard on all models, the bucket is opened for unloading by means of hydraulic pistons.
Maximum flexibility
From a bucket for dirt collection, you can easily switch to free sweeping without changeover times. The sweeper becomes an angle sweeper that turns mechanically or hydraulically as an option.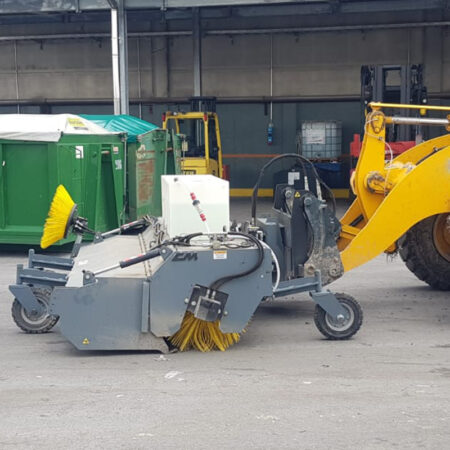 Maximum manoeuvrability
It has 3 or 4 rubber wheels that perfectly follow the machine's movements for all-round manoeuvrability.
Brush adjustment
Depending on the wear of the brush, the central drum can be adjusted so that it is used to the minimum diameter. The numbers on the side indicate the brush ø.
Options
PPL side cleaning brush
ø600 with independent hydraulic motor
Mixed steel side cleaning brush
ø600 with independent hydraulic motor
Steel side cleaning brush
ø600 with independent hydraulic motor
Side brush nozzle
Mixed steel internal brush
Main brush in PPL/Steel.
Watering kit
by pressure for operating machines with own tank
Connector 8-14 poles 12 V
Watering kit
Watering kit by pressure with 12 V pump and sprayers, 100, 200 or 400 l tank
Hydraulic brush angle
Hydraulic brush angle kit ±20° with hinge
Product images
Highlights
Internal brush in PPL oversized as standard
Depending on the model, with ø 600 or 800 mm
Large bucket capacity
Fast unloading, thanks to the two hydraulic cylinders
Large water tank
Depending on the model, it can range from 100 or 600 litres
Two functions in one
Possibility of working with the bucket opened, e.g. for snow clearing with an inclined plough (opt)
Technical data
Model
Operating machines
Working width (mm)
Oil flow (l/min)
Weight (kg)
CSK 125
1250
20/30
190
CSK 150
1500
20/30
330
CSK 175
1750
20/30
490
CSK 200
2000
50/70
890
CSK 225
2250
50/70
1000
CSK 250
2500
50/70
1180
CSK 300
3000
80/100
1480
CSK 350
3500
80/100
1730
CSK 400
4000
80/100
2100