Enquire now
Call us or write us on WhatsApp
MULTISKID RC
One of a kind in the world
The radio-controlled skid steer loader
Multifunctional skid steer loader with remote control, designed with a universal skid steer loader attachment plate to accommodate any equipment.
High safety thanks to the use of radio control.
Among the various applications:
wheel saw for cutting, small excavations, pre-drilled trenches, mini-trenching and micro-trenching for laying fibre optic cables;
road planer for removing asphalt or concrete in preparation for a subsequent excavation or for simple scarifying of a damaged surface;
forestry mulcher for maintenance of greenery even on sloping and unpaved terrain;
maintenance of watercourses and rivers;
loading bucket for cleaning areas where the direct presence of the operator would put his health at risk, such as biogas tanks;
restoration of areas damaged by natural disasters.

Advantages
Safety for the operator on site
High hydraulic performance for use even with equipment with high hydraulic requirements
Maximum precision during excavation, maintenance and work thanks to 360° visibility for the operator
Fewer resources on site
Easy to transport
Manoeuvrability on all types of terrain
Quick equipment changeover
Product insights
Safety and comfort
Radio remote control with joystick for greater manoeuvrability for the operator; display showing engine rpm, water temperature, and fuel level in real-time; emergency button on the radio control; the operator remotely controls in the safety zone
Diversification of applied equipment
Thanks to the universal quick coupling for skid steer loaders, any equipment in the market can be applied.
Discharging at high heights
The boom can be raised by up to 3 m, ensuring high unloading and loading even on trucks and tanks.
Stability and traction on unpaved and sloping terrain
The trapezoidal undercarriage and low centre of gravity ensure strong ground stability and high traction, enabling the Multiskid RC to work even on sloping and unpaved surfaces.
Hydraulic system
High power and performance with hydraulic system 252 l/min @ 2500 rpm.
High Power
Cummins 75 hp, stage V engine.
Ballasts
For counterbalancing heavy equipment. Ballast weights of 25 kg each, unlimited insertion.
Works up to 40° slopes
Thanks to the design of the trapezoidal undercarriage and low centre of gravity, Multiskid works on slopes up to 40° in every direction: hilly and mountainous areas, embankments, escarpments, etc., and in all those places where a slope machine is needed for the most challenging terrain with poor grip while maintaining operator safety by being out of the way.
Product images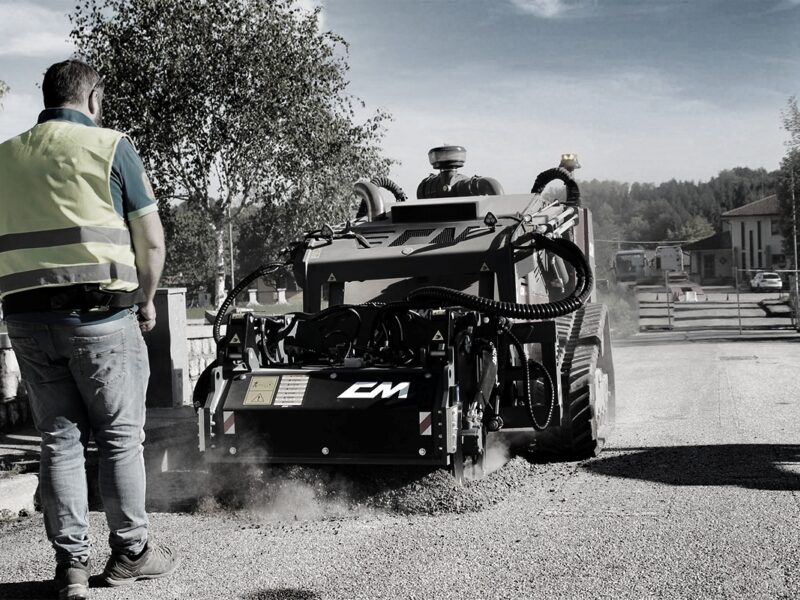 Highlights
4 LED lights
2 at the front and 2 at the back, operated by radio control if necessary, allow visibility even at night, emitting light more similar to daylight.
Cyclonic prefilter
For an initial separation of dust, allowing the replacement of filter elements to be considerably reduced.
On-board display
Colour display allows real-time control of all machine functions and parameters.
Radiator
Internal structure, protected from potential impacts.
Lockable tank cap
Diesel tank cap with a key lock that makes it impossible to tamper with the tank.
Video