Enquire now
Call us or write us on WhatsApp
Screening bucket CDS series
High productivity even on wet soils
Screening bucket with rotors that screens and crushes light material even on wet ground.
The CDS Series rotor screening bucket is characterised by its ease of use and high productivity even on wet ground. Produced in 4 models for excavators from 3 to 25 tonnes, it is also applicable to skid steer loaders, backhoe loaders and wheel loaders. It finds applications in a variety of sectors, from recycling to the sorting of aggregates in demolition or earthworks, to soil screening; also used in the cultivation sector for mixing, land reclamation, peat screening and covering drainage channels, and again for crushing wood and brushwood as well as for composting and plasterboard.
Operating machines
Multiskid RC
Skid steer loader
Excavator
Backhoe loader
Telescopic handler
Wheel loader
Tractor
Advantages
High productivity even with wet material
Low noise level
Also suitable for small 3-ton operating machines
Quick and easy maintenance
Product insights
Centralised greasing
Quick maintenance on site.
Drainage line not required
Due to the choice of the motor and hydraulic circuit, the drainage line is not required.
Protected hydraulic system
Hydraulic motors, valves and hoses are protected to prevent breakage in the event of unintentional impact during bucket operation.
Options
Rear scrapers
Increased cleaning of the rotors during the work phase.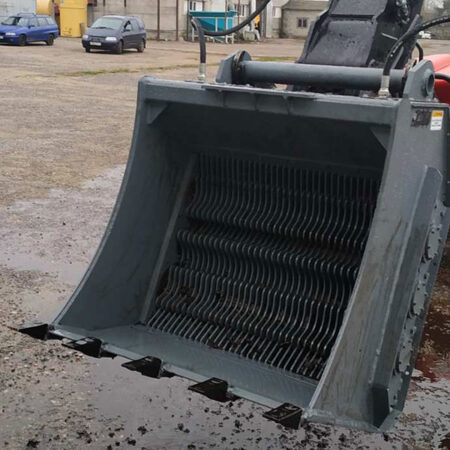 Digging teeth kit
They facilitate breakthrough on hard ground.
Product images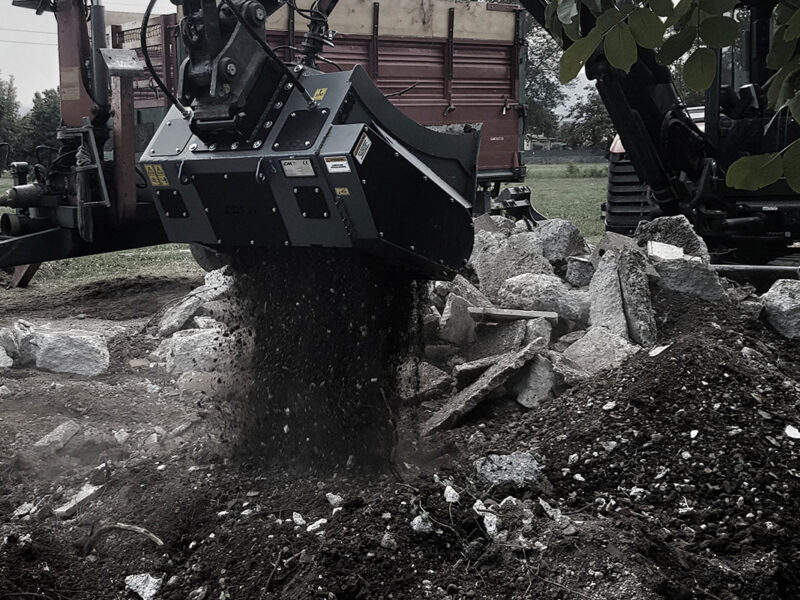 Highlights
Upper and lower scrapers as standard
Increased rotor cleanliness on wet ground
Structure and rotors made of wear-resistant material
Components subject to wear are made of wear-resistant steel
Easy rotors replacement
Easily replaceable rotors directly on site
Video
Technical data
Model
Operating machines
Mouth size (mm)
Oil flow (l/min)
Weight (kg)
CDS 07
750
30/40
250
CDS 10
1000
60/80
650
CDS 14
1400
100
1480
CDS 18
1800
120
2000