Always a lot of news at CM.
The design and development team has created three new series of sweeping buckets, the professional series, specifically for high-flow operating machines, the new series created especially for the agricultural world, and the kommunal sweeper: the CBS PROFI, the CSP Agri and the CSK are born.
CM offers a varied range of sweeping buckets.
CBS Series
The CBS series, the classic sweeper bucket, is made in 7 models with working widths from 1 to 2.50 m, ideal for outdoor cleaning work, roads, yards, pavements, and poultry sheds. Applicable to skid steer loaders, telescopic handlers, and medium oil flow machines.
CBS MK Series
The CBS MK Series, the sweeper with the multi-purpose 4×1 bucket, applicable only to skid steer loaders, which allows the material to be unloaded at high heights, has the possibility of unhooking the brush and having only the 4×1 bucket and also the possibility of attaching two grapples, making it a prehensile bucket for collecting brushwood and twigs.
CBS PROFI Series
On the other hand, the new CBS PROFI is designed for high-flow machines such as wheel loaders, backhoe loaders, and telescopic handlers. The entire structure is reinforced, the collection bucket is larger, the polypropylene brushes are 800 mm in diameter and it is built in 5 models with working widths from 200 to 300 mm.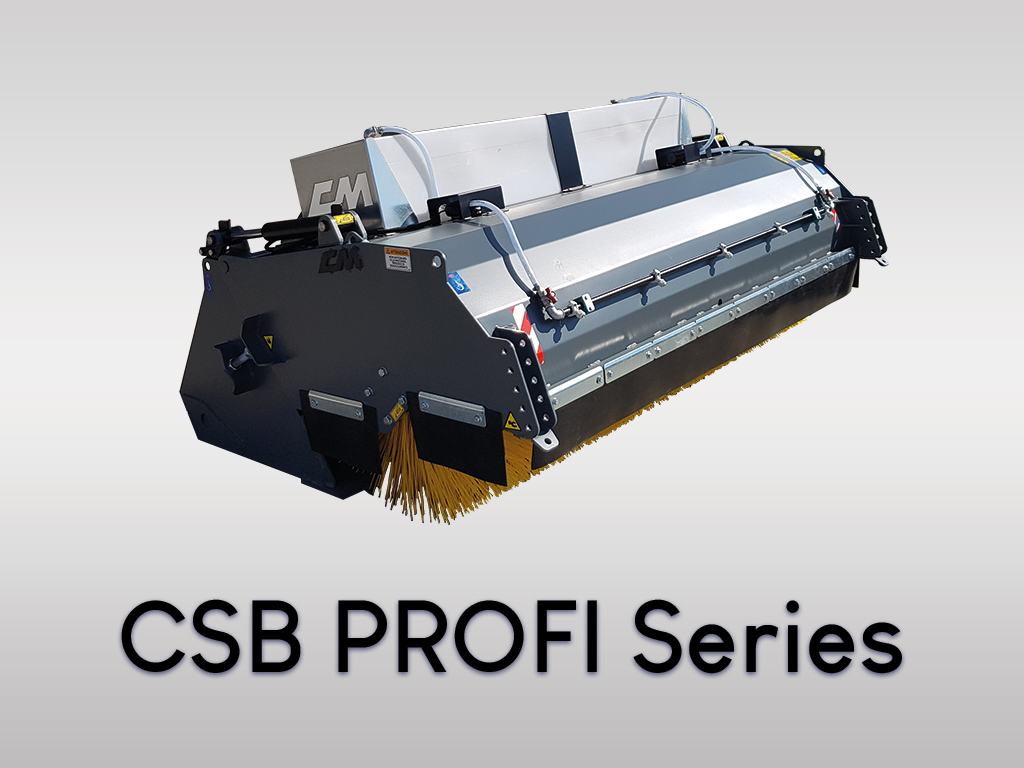 CSA Series
The CSA series, an angle sweeper without a collection bucket, is particularly suitable for sweeping snow or for secondary roads where it is not necessary to collect material. It can be supplied with an attachment for trucks/municipal vehicles.
CSI Series
Then there is the CSI, an industrial sweeping bucket, also equipped with a collecting bucket, positioned in front of the brushes, three revolving support wheels, and bucket hydraulic opening as standard on all models, suitable for cleaning works on indoor surfaces such as industrial warehouses as being equipped with the three wheels and a rubber positioned at the bucket entrance, there is no risk of scratching the floor. It is recommended on forklift applications but not exclusively as it is applicable to all operating machines.
CSK Series
The innovative CSK is halfway between the CSA and CSI models. Equipped with a collection bucket positioned in front of the brushes, it has two hydraulic pistons as standard. This ensures that the bucket is discharged hydraulically and allows the bucket itself to remain raised, thus leaving the center brush free and becoming a sweeper without the collection bucket. In addition, with the hydraulic angle option, the brush can turn at +- 25°, becoming a CSA sweeper for all intents and purposes. It is equipped with 3 or 4 wheels (depending on the model), each with a load capacity ranging from 1000 up to 2800 kg (again depending on the model) as well as a high bucket capacity. This particular series is built from working widths of 1.25 m up to 4 m. It is also designed for heavy-duty machines such as wheel loaders in quarries and in industrial settings such as landfills.
CSP Agri with PTO Series
The New CSP AGRI with PTO is designed for the agricultural sector. Designed to be specially fitted to tractors with a three-point hitch as standard, it is equipped with a universal joint, capable of transmitting the rotational motion of the tractor to the sweeper, a capacious collection bucket, and oversized polypropylene brushes with a diameter (depending on the model) of 600 or 800 mm as standard. The CSP AGRI is also multi-purpose as it can be transformed into an angle sweeper, with the possibility of raising the bucket and sweeping sideways over loose material or suitable for sweeping snow.
Every operating machine, be it a skid steer loader, a wheel loader, a telehandler, a forklift, a backhoe loader, a farm tractor, or a municipal truck or vehicle, and for every type of work, be it internal or external cleaning, corresponds to a CM sweeper.